Visiting Shapinsay
Thinking of visiting Shapinsay? We now have a fantastic Cafe/Restaurant/Bar for you to visit when you come over (check out our Facebook page The Smithy Shapinsay for the latest updates in opening times and menus!
The Heritage Centre is also open, having opened its doors with a fresh new look in July 2023. There are interactive exhibits for you to get involved with and you can watch the fantastic video about John Robert Leslie's wooden boat building!
The RSPB bird hide has just undergone some extensive renovation and is open to the public all year round. Bring your own binoculars!
Thomas Sinclairs shop at the end of the village have coffees, cold drinks, crisps, sweets, ice-creams, and even Mr Whippy ice-creams in the Summer. They have a fantastic stock of loose goods from milk to nuts and seeds, so if you wanted to reduce your packaging, you can bring your own containers and stock up! (check out "living on Shapinsay – Thomas Sinclair, for more information)
Toilets: There are 2 public toilets on Shapinsay – the first one is in the Gatehouse Square, just up from the old pier. The second one is round at the playpark and is part of the Community School building, right opposite the playpark, with help from the Garfield Weston Foundation, the Community Association were able to get an outdoor toilet fitted in 2021!
For more information on what there is to see and do on Shapinsay, please check out our interactive map on the home page https://shapinsay.org.uk/
Transport – See our Transport page for more information about the Transport available on Shapinsay
Where to stay on Shapinsay
We are a bit low on accommodation to offer at the moment, but we do have one fantastic self catering house – Click below to find out more.
Burroughston Broch
Burroughston Broch is an iron age broch situated in a beautiful spot by the sea, at the north end of Shapinsay, about 4 miles from the pier. It was excavated in the mid 1800's and is one of the best preserved Brochs in Orkney.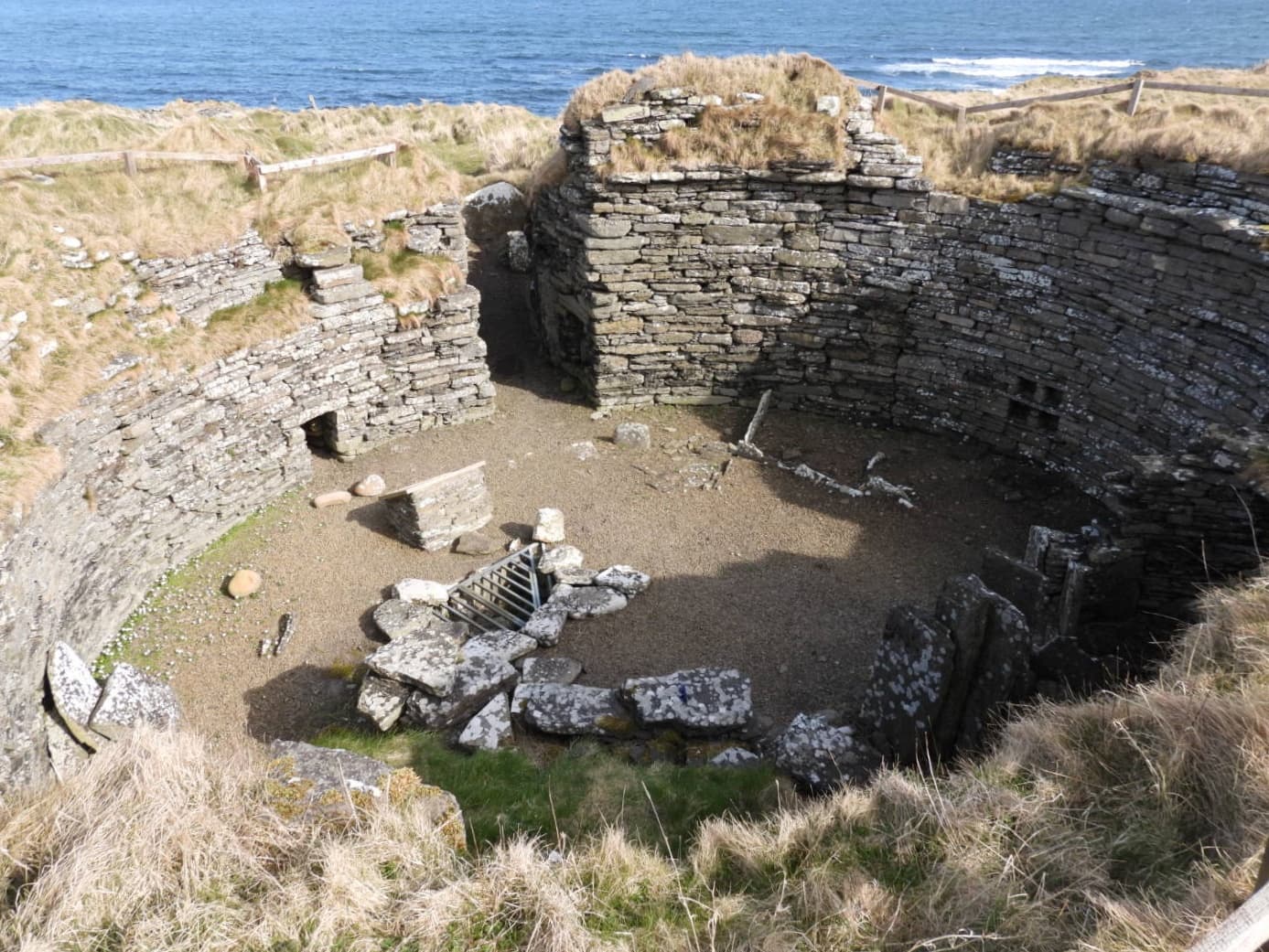 RSPB Mill Dam Nature Reserve
RSPB Mill Dam Nature reserve is covered in a dynamic wetland with open water. It's covered in wide swamp plant communities and a range of different plants, especially adaptive to living in damp, marshy places. This natural marsh was dammed in the 1880s, providing an ideal habitat for birds throughout the year.
In the summer you look out for the rare pintail and up to nine different species of ducks. Also keep an eye out for the great yellow, one of the rarest British bumblebees that can be found on Shapinsay.
Autumn attracts hundreds of birds every year. The numbers increase as they migrate from the arctic. Greylag geese arrive in October and up to 1000 breeding pairs can been seen at one time.
Later in the winter up to 120 whooper swans and several hundred greylags roost within the safety of the reserve at night. Hen harriers can be seen on the reserve during the winter, attracted by the large flocks of waders and wildfowl. For more information visit: https://www.rspb.org.uk/reserves-and-events/reserves-a-z/mill-dam/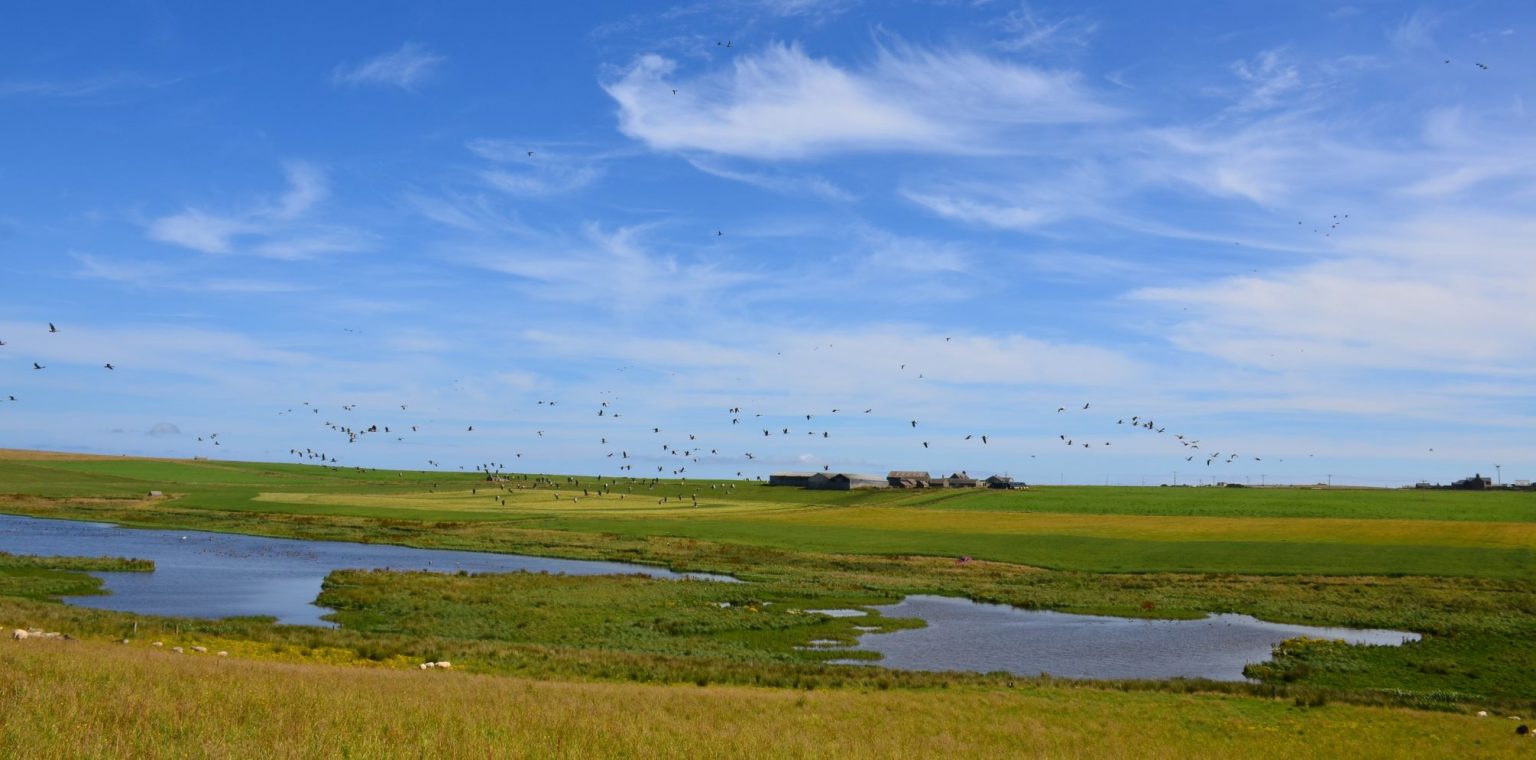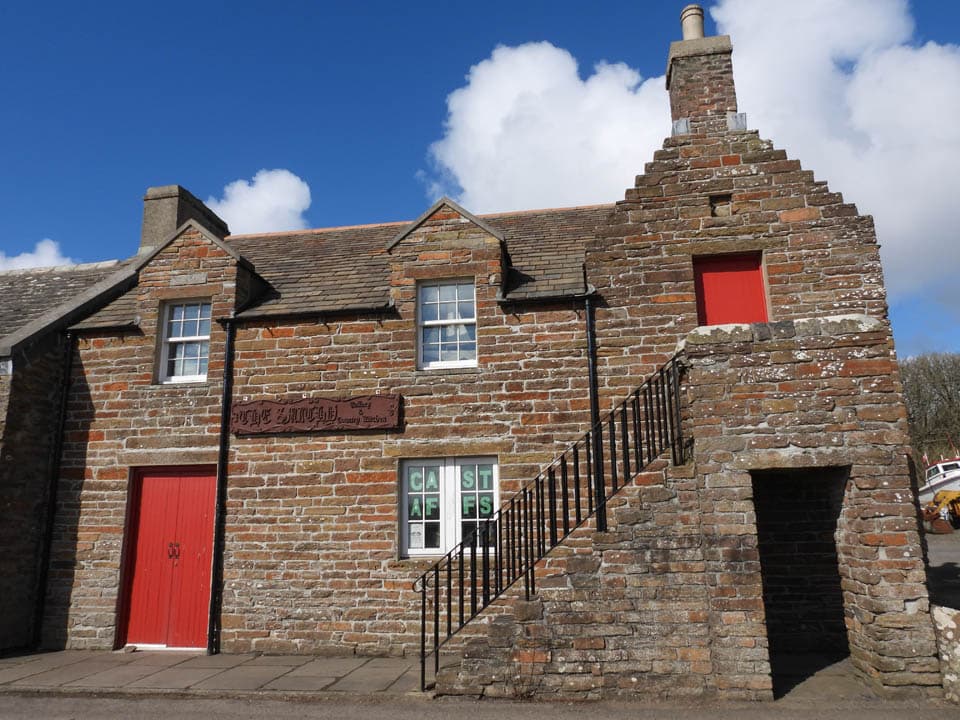 Wildlife on Shapinsay
The wildlife on Shapinsay is an attraction in itself, the vast variety of habitats lead to a wide range of breeding birds and wildflowers. You don't need to walk far from the Ferry to see Seals basking in the sun on a nice day, you will find them most of the year round lazing on the shore below the shop!
The bird hide is usually a fantastic place to see a huge variety of birds and you can see many birds on the shores and on the cliffs up toward castle bloody. If you are lucky you may spot puffins. If you sit long enough at Ness you can see seals, Terns, Sand Martins, Shags, Gannets, Fulmars, I've even seen puffins fly past the point! You might even get lucky and see porpoises, killer whales or Otters, all of which have been seen at Ness if you follow the walk round the the point.
Beaches on Shapinsay
Shapinsay is surrounded by the sea, and with the sea, comes beautiful beaches! Shapinsay has an array of beauty spots on the shore, from rocky beaches with rock pools and wildlife treasures galore, to beautiful sandy beaches! Ness has a beautiful sandy beach, but be careful if you want to swim there as there is a ferocious tidal current that runs past there, watch the speed the seals whizz past with their heads in the air! There is an array of wildlife to be seen at Ness, and if you keep a careful eye below your feet, you might even be lucky enough to find an elusive Groatie Buckie!
Sands beach is a little further out of the way, on the east side, but is just as beautiful if the tide is right and great for a swim! It gets deeper faster than Skenstoft, so you can swim nearer the shore. With it's view over to the mainland, it's a nice picnic spot on a warm day.
Skenstoft beach is a favourite with many locals for a paddle as it's so shallow. The tide goes out over the sand for a long time down there, a great place for peedie folk to paddle or learn to swim. There are many rock pools at Skenstoft, so great fun spotting a variety of small crabs, fish, star fish, anemones, Whelks etc and in low tides you can often find razor fish (locally known and spoots) and cockles, as well as hermit crabs and the odd eel!